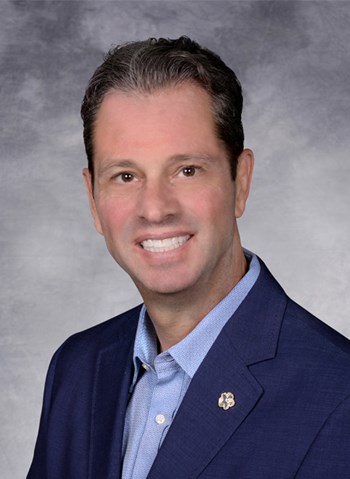 Specialties
Investments, Industrial
Scope of Experience
As the CEO of NAI Capital Commercial, Chris Jackson brings a broker's passion to commercial real estate deal making.
Responsible for overseeing all facets of NAI Capital Commercial, Chris drives the company's mission, business development, operations, engagement with the board of directors, and its agents and employee ownership stakeholders. He has worked tirelessly to align the company's day-to-day philosophy around working together, putting clients first.
Background & Experience
Exuding a dynamic, effective, and influential leadership style that motivates, Chris began his career in commercial real estate in 1997 when he joined CB Richard Ellis. In 1998, he joined Grubb & Elli where he was awarded Rookie of the Year in 2001. Over the course of his career, he has received numerous awards and promotions highlighting his rise within the company. In 2006 he joined NAI Capital Commercial, and the following year Chris was ranked fifth at the company by total sales production. Since joining NAI Capital Commercial, Chris has been a Capital Club Top Producer every year. In 2014 Chris was promoted to Executive Managing Director of NAI Capital Commercial's Encino office. Since Chris took over as Executive Managing Director, the Encino office has remained the top producing office for the company. Chris led the successful purchase of NAI Capital Commercial by its agents and employees in 2020 when he was named CO-CEO. After a couple very profitable years as the new company, in 2022 Chris was named Chief Executive Officer of NAI Capital Commercial.
Chris is a strong leader within the organization and throughout the commercial real estate industry, making him a dynamic advocate for the company's clients, agents, and employees. He has extensive experience as a dealmaker focused on industrial investments, which served as a catalyst for him to start the investment services group during his tenure as Executive Managing Director of the Encino office.
He is happily married, has two daughters. He enjoys working industrial investment deals for his clients and for his personal real estate portfolio
Education
Chris is a native of Los Angeles, California. He graduated and received his bachelor's degree from Woodbury University, Burbank, CA with a minor in International Business.
Professional Associations & Designations
Awards and Professional Affiliations:
• American Industrial Real Estate Association (AIR)
• Capital Club 2022 Gold Award
• Capital Club 2021 Gold Award
• Capital Club 2020 Platinum Award
• Capital Club 2019 Gold Award
• Capital Club 2018 Platinum Award
• Capital Club 2017 Platinum Award
• Capital Club 2016 Gold Award
• Capital Club 2015 Silver Award
• Capital Club 2014 Gold Award
• Capital Club 2013 Gold Award
• Capital Club 2012 Gold Award
• Capital Club 2011 Platinum Award
• Capital Club 2010 Gold Award
• Capital Club 2009 Gold Award
• Capital Club 2008 Gold Award
• Capital Club 2007 Platinum Award
• Top 200 Most Influential Leaders - San Fernando Valley Business Journal, 2019
• Grubb & Ellis LA North: Top Producer Award, 2001- 2006
• Circle of Excellence: Grubb & Ellis nationwide for 2005
• Top 40 Under 40 for Brokers - San Fernando Valley Business Journal, 2004
• Top 30 Brokers - San Fernando Valley Business Journal, 2004
• Rookie of the Year 2001 – Grubb & Ellis Company
Transaction History
Investment Sales and Leasing Transaction Volume
• 2022 $395 million
• 2021 $345 million
• 2020 $325 million
• 2019 $275 million
Strategic Clients
• AEW
• TA Associates
• First Industrial
• Rexford Industrial
• RREEF
• LNR Property Group
• American Realty Advisors
• ARKA Properties Group
• Prologis